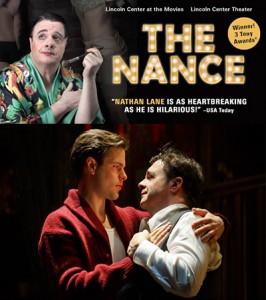 Lincoln Center at the Movies
Thursday July 17 & Saturday, July 19
Winner of 3 Tony Awards Douglas Carter Beane's The Nance is set in the naughty, raucous world of burlesque's heyday.  The Nance introduces us Chauncey Miles (Nathan Lane) and his fellow performers at a time when it's easy to play gay and dangerous to be gay.  USA Today raves "Nathan Lane is as heartbreaking as he is hilarious." The New Yorker proclaims "a nearly perfect work of dramatic art." Directed by 3-time Tony Award winner Jack O'Brien!
Don't miss the The Nance at Rialto Cinemas®    For performance dates, times and tickets visit Rialto Cinemas website at  www.rialtocinemas.com.  Enter the promotional code F2FLCT at check-out and receive a $2 discount per ticket. Offer is only good for online purchases.