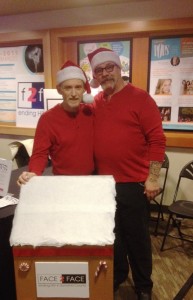 Allen and Don
I have spent the better part of the last thirty years in and out of prison.  The times that I was out of prison I was, for the most part, homeless.  I know what it's to be hungry.  I know what it's like to be cold.  I think that in those times I felt so disconnected from the world and alone, even when surrounded by many people.  I also remember those moments on the street when a stranger would ask me if I was hungry or if I could use the hoodie they had.  It was those random moments that I felt human and experienced momentary connection with another person.
In June of 2014, I paroled from San Quentin Prison at the age of 50.  This time I had someone expecting me, welcoming me home.  I was not real sure how this all would play out because we hadn't yet asked his landlord if I could stay there.  I had nothing but the $200.00 "gate-money" from prison and no steady income.
I am from San Francisco, so paroling to Santa Rosa where I didn't know anyone except my Partner Don, I was stressing about so many things… my health, getting signed up for SSI, but more immediate, how was I going to contribute to buying food, paying bills and just plainly pulling my own weight?
My Partner Don is a volunteer at Face 2 Face, and he tried to ease my mind just prior to my release by suggesting that I check out Face 2 Face.  He said I would get a case manager assigned to me to help navigate my way in finding whatever programs there may be that could assist me.  He also told me that there was a Benefits Counselor that could help me from beginning to end in filing with Social Security.  He also said that there was a Case Manager that assists in housing issues and, "…let's see if there isn't something that she can do for you."
Although I knew that I could use all the help I could get, I was still a bit apprehensive because I was embarrassed to ask for help.  So, I wasn't really as excited as Don was for me to meet all the "nice, helpful people", but what could I do?  I had to at least come and check it out.
When I finally came to Face 2 Face and got to actually meet these people—although I won't say that all my defenses had melted—I was beginning to feel at ease here.
It wasn't long after I first came here, that I got used to taking advantage of the Client Resource Center, being able to use the phone or get on the computer to take care of personal stuff.  I decided by the suggestion of my Partner Don to try volunteering once a week at Face 2 Face.  I have anti-social behavior, Bipolar and look at me I am tattooed neck to feet.  They don't want some ex-con with mental issues answering their phones or whatever!
I let Don talk me into giving it a try.  It wasn't long after I started to volunteer that I began to open a bit to strangers and the close proximity of those around me.  I was beginning to feel like I had some worth.  And for the first time in 30 years people were asking me to be around them…including me in events and conversations.  I have found some new friends and as corny as this may sound, a family of sorts.
I have seen so many homeless people in my everyday travels here in Santa Rosa, and I got an idea… I want to have a coat drive to benefit the homeless and low income persons in Sonoma County living with HIV/AIDS.  How was I going to do this?  What did I need to do to make this a reality?  So, I shared my passion with Meghan Murphy, Program Director at Face 2 Face.  After I finished what I wanted to say the first sentence from her was, "What can we do to help?"
And so from that day until now, my dream is now not only my dream but that of the Staff here at Face 2 Face and anyone that has heard our mission.  I am so excited and grateful that I had a place to go when I got out of prison, not just to receive services, but learning the need to build community and friendships.  I got that here at Face 2 Face.
You guys are awesome,
Affectionately,
Allen