OUR MISSION
To expand our work "ending HIV in Sonoma County while supporting the health and well-being of people living with HIV/AIDS."
OUR VISION
To purchase and outfit an EV mobile van from which we will deliver Prevention and Care Services to under-served populations in our region. From this environmentally-friendly van we can perform rapid HIV testing; educate, initiate and prescribe PrEP; offer harm reduction services; and care for people who cannot access our Face to Face office.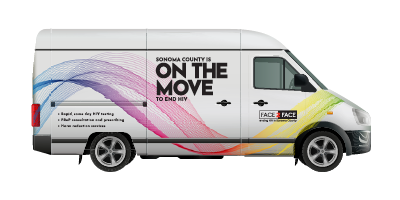 Our goal is to raise $250,000 in order to take our work on the road and reach further into the communities we serve. Help us reach our goal by donating to our campaign today.
Your donations will help us purchase, renovate and wrap an EV Van and assist us in maintaining and staffing the van for the first two years.
GIVE TODAY TO ENSURE OUR WORK CONTINUES TOMORROW TO EXPAND OUR WORK, SCOPE, AND IMPACT IN OUR COMMUNITY.
Donating is easy and convenient. It's also fully tax-deductible. For larger  donations, please reach out to us directly at (707) 544-1581.
"Help others achieve their dreams and you will achieve yours."
– Les Brown
"We rise by lifting others."
– Robert Ingelsoll
Thirty-nine years ago a small group of people in Sonoma County whose friends, families, and lovers were being ravaged by AIDS refused to sit by and let life and dignity be stolen from their loved ones. They took action against this disease. Many of you were there in the beginning when the River AIDS Support Group formed, and many of you were there when that group transformed into Face to Face / Sonoma County AIDS Network.
The group mobilized to form 24-hour care teams, educated themselves about this mysterious disease, and filled gaps in services that the medical establishment was starting to identify.
They didn't think twice about the sacrifices necessary to stem the rising tide of death that was wrenching their friends and families.  They believed that people should have the right to acceptance, dignity, and healing.
Fortunately, things have progressed. People with HIV are now able to live long and fruitful lives. Every day Face to Face helps these clients to ensure that they have housing and other services that so many of us take for granted.
Our services are free – from rapid HIV testing to accessing PrEP (the once-daily pill to prevent HIV); our Harm Reduction Program is one of the most respected programs in the region, and our F2F team is still fueled by passion and compassion for those in need of assistance.
Together we have weathered over 39 years of a baffling epidemic, scarce resources, discrimination and horrific losses. Many donors, like you, have been our guardian angels – supporting our determination and tenacity. We have so much to be proud of, but the work is far from over. Our greatest asset is people who have created one of the best agencies in the country for AIDS prevention and services.

Always free, confidential or anonymous
Rapid HIV Testing
Results in 20 minutes.
PrEP
Education, assessment to prescribing this one-a-day pill to prevent HIV.
Harm Reduction
Syringe Services Program providing access to sterile injection equipment. Opioid overdose prevention and education along with providing linkage to treatment programs.
Coordination of care, advocacy and support
Care Services
Our trained team tackles client issues which often affect proper HIV Care. We are a resource for information and referrals to local physcians, support groups, mental health counseling, drug treatment programs, return to work services and legal assistance programs.
Housing Services
We advocate for housing for our clients providing assistance with housing searches and local rentals.
We have access to emergency financial assistance for rent and utilities and provide referrals to rent subsidy programs.
Benefit Counseling
We assist in obtaining and keeping available financial benefits when working with our clients.
Face to Face – 2021 Service by the Numbers
3,780
Overdose reversals reported
6,325
Naloxone kits provided
810,000
Syringes exchanged
735,500
Syringes retrieved
182
Clients served with financial assistance and benefits counseling